Rokling
Type
Catch Difficulty
Very Hard

*

Rarity
Rare
Breeding
Egg Types
None
Breeding Time
N/A
Description
Rokling is a Terra sturdy type with a high Physical Defense. Its heavy earthen armor leaves its Speed a bit slower than other, but upon evolving, Rokling defies gravity and gains Flying type
Evolution
Backstory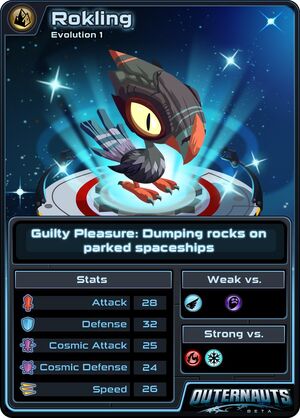 It is the ancestor of all the flying types. Though it is a flying type, it cannot fly beacuse it has wings that are made of rock. Mayans say the Egyptians carved a bird made of stone. 
They originated from Rokon Mountain and wind blows sand onto them once they are hatched, enlarging their body size.
Locations
Only acquired at the start of the game.
Base Stats
| | |
| --- | --- |
| Attack | 162 |
| Defense | 180 |
| Cosmic Attack | 153 |
| Cosmic Defense | 135 |
| Speed | 141 |
Type Effectiveness
Abilities